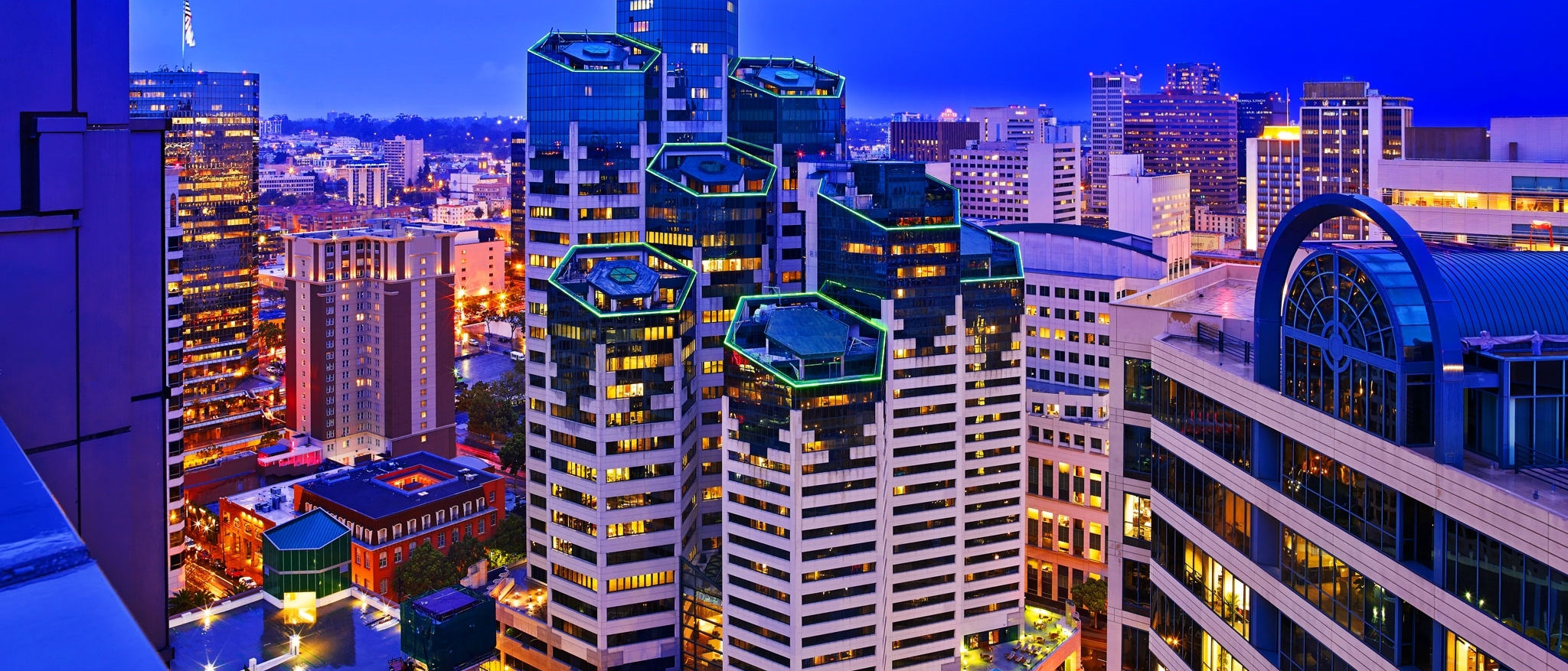 The Emerald Plaza Building
The iconic Emerald Plaza is San Diego's most distinctive building to shape its skyline. The hexagonal green neon halos glow each night acting as a beacon for visitors and a symbol of downtown revitalization for San Diego businesses and residents.

In 2007, The Emerald Plaza San Diego became home to the Westin San Diego and has benefited from the unique architectural design of its hexagonal towers ever since. Every room at the Westin San Diego is unique, many with panoramic views of the Pacific Ocean, San Diego Bay, Coronado Island, Point Loma and the Cuyamaca Mountains. The building has 12% more exterior window surface than comparable square or rectangular shaped towers, due to its hexagonal shape. The tallest tower is 30 stories and 400 feet tall and the structure's eight rooftops are angled at 33 degrees to match San Diego's latitude.

The Emerald Plaza building is centrally located in the heart of downtown, adjacent to the San Diego Trolley and one block from the Coaster and Amtrak Station. The San Diego International Airport is three miles away and all major freeways are easily accessible.

The Hexagonal Design

Construction
Emerald Plaza's hexagonal design allows for the maximum number of guestrooms and offices with views, as well as minimizes wasted space typical to rectangular buildings. Furthermore, this design utilizes angled window sills, which reflect ambient sunlight into the building, reducing lighting requirements. The Emerald Plaza was built in 1990 at a cost of $150,000,000. It is comprised of a steel frame structure with an exterior combination of granite stone panels and reflective glass set in a custom Kynar green aluminum window framing system. The structure itself is balanced on a 5-foot deep concrete block which acts like a floating device, allowing the building ebb and flow, mimicking the movement of water. This technique makes it one of the most stable structures in San Diego.

Gracing the interior of the building are more than 30 types of marble and granite quarried from Portugal, Norway, Spain, Italy and Africa. Known to have some of the fastest elevators in the United States (850 feet per minute), to fresh air vents which eliminate sick building syndrome, attention was paid to every detail.

Design of the Building
The design of the building was intentional and was developed & constructed with Feng Shui principles in mind. Recognizing that the universe is a fully integrated energy system, the hexagon was chosen for its structural integrity. The hexagon is actually comprised of interlocking triangles which are the building blocks of nature. The study of crystals further inspired the design of the Emerald Plaza as most crystals found in nature consist of a series or cluster of hexagons. They are also organic in form and are believed to have healing and spiritual properties. As it is employed in the building, the hexagon allows for shorter hallways and more visual stimulation than that of rectangular structures. It also creates interesting interior volumes, maximizing daylight.

Emerald Gemstone
Like crystals, the Emerald Gemstone is known to harmonize and strengthen the positive influences of mercury which includes intelligence, education, speech, communication, confidence, humor, wit, and intellect. The Emerald Gemstone helps to lift depression and insomnia and promotes knowledge of the heart resulting in peaceful dreams. The Emerald has long been the symbol of hope and is considered by many to be the stone of prophecy.

The Architect
The architect, C.W. Kim's intent, was to have you feel as if you were standing in the middle of a crystal as you enter the atrium. While standing in the atrium, you'll notice many angles of light shining through the window panels, providing countless facets and reflections. Kim likened the atrium to standing in the center of Superman's Crystal Room, with the magic green crystal from which he acquired his power.

Energy Efficient
In addition to its aesthetic beauty, The Emerald Plaza building is also one of downtown San Diego's most energy efficient buildings due to its computerized energy management system, thermal storage system and ice plant. Energy control systems including the H.V.A.C. (heating, ventilating, and air-conditioning) equipment, lighting systems, telecommunications, and electronic monitoring devices were a top priority in the design of the Emerald Plaza. In 2008, the building was granted the General Electric Energy Star Award. Currently, this award can be found in the office lobby.

One of the unique energy-saving systems utilized by the hotel is its chilled water systems. These mechanical structures utilize an innovative design to provide efficient and cost effective energy management. Each room in the hotel utilizes an individual fan coil air conditioning unit. The cooling to each unit comes from chilled water pumped through the system from the ice storage system located in the basement. In addition, each floor is equipped with separate air handlers and has fresh air ventilation louvers, optimizing energy savings and reducing "sick building syndrome."

Our building has the largest TES system of its kind on the West Coast. Through the use of ice manufactured in thirteen 8' x 52' water storage tanks, we freeze 1,000,000 gallons of water, enabling the system to save our building an estimated $15,000-$18,000 per month in energy costs. As the water freezes, it has the capacity to release large amounts of heat energy. Large water storage tanks located below the parking garage store the ice. During late night and early morning, the electricity is used to run the air conditioning chillers and compressors. The cold water freezes and stores the energy until it is needed the next day. During the day the chiller and compressors are turned off and only the blower fans are needed to cool the building, resulting in a substantially lower electric load requirement during the day.

Going Green
The Westin San Diego has certainly implemented green practices and we are always trying to do more. We believe that economic growth and the well-being of society are inextricably tied to the health of the environment. Accordingly, we embrace our responsibility for environmental stewardship and are committed to integrating leading environmental practices and sustainability principles into our core business strategy. Through collaboration with our hotel owners, franchisees, suppliers and business partners, we actively work to reduce the environmental impact of our business activities and continually improve and innovate on practices aimed at: Conserving natural resources, Minimizing waste and pollution, Enhancing indoor environmental quality, Establishing and reporting on key environmental performance indicators and Raising environmental awareness among our associates, guests and communities.
Below is an outline of our green program:

Within the Hotel
All areas of the Westin San Diego has recycling bins, including our meeting rooms. If requested, we are happy to provide rolling recycling stations in each meeting room that include a separate bin for paper, cans, and waste. Every department of our hotel uses recycled paper for all printing and copying.
The hotel also recycles its grease trap oil to create bio-diesel.

We gladly offer walking maps and information on public transportation. Because of our location, guests have no need to use a car while staying at our property. We are only one block from the trolley line, two blocks to the train station, and within walking distance to all downtown activities.

The Westin San Diego is pleased to provide all of our guests with a complimentary airport shuttle. The shuttle cuts down on the need for guests to rent cars or use separate taxi cabs.

Guest Rooms
Linen Program: Sheets are only laundered upon guest's request.
Compact fluorescent light bulbs have been installed in all guestrooms, lobbies and hallways.
We use low-flow toilets in all guestrooms.
Dual Shower-Head Program: Guests can opt to use only one showerhead during their stay or, by removing a pin in the second showerhead, they can utilize both.
Meeting Planning & Meeting Set-up
Paperless Meeting Planning
Electronic sales tools are provided during the meeting planning process to conserve paper, including electronic sales proposals, contracts, electronic menu and banquet event orders, and electronic booking tools using StarGroups and reservation cross-check.
Environmentally & Socially Conscious Activities
Hotels offer the opportunity for meeting attendees to participate in environmental or community related team-building and/or volunteer activities.
Hotels offer the opportunity for meeting attendees to participate in the Check Out for Children
Sustainable Meeting Services
Default Paperless and Clutter Free Meeting set-ups are employed.
When printed material is required, recycled content paper products and double-sided printing are chosen by default.
Recycled content paper flip-charts, white boards and environmentally friendly non-paper supplies are provided by default.
Meeting signage is carried through LCD/LED screens or other sustainable supports.
Potted plants or organically grown flowers are available upon request in lieu of cut flowers.
Access to sustainable transportation services is available.
Recycling bins are available in all meeting spaces.
Sustainable Food & Beverage Practices
Sustainable and/or locally sourced food options are offered as part of the meeting menu.
Meeting spaces are designed using tables that do not require linen by default. If table coverings are preferred by the meeting planner, reusable alternatives, such as cloth, are offered.
China and silverware service are used by default. If disposable food packaging is required, environmentally friendly options are proposed.
Condiments are provided in bulk containers/dispensers to reduce waste.
Environmentally friendly alternatives to conventional bottled water are available by default.
Leftover food may be donated to local charitable groups (subject to local regulations).
Make a Green Choice
Conserving water, energy and other resources is rewarding for you and great for the environment. Enjoy a $5 voucher at participating restaurants or 500 Starpoints® awarded at check-out for each night you decline housekeeping (except day of departure). A minimum 2-night stay is required. It feels good to conserve. To participate in the Make a Green Choice program, please tell us at check-in.
One night can mean significant savings.
Save Water
49.2 Gallons*
49.2 gallons is 787 cups, enough for 1 person to drink 2 cups per day for a year.
Save Electricity
0.19 KWH*
That's enough to run an Energy Star-rated laptop for 10 hours.
Save Natural Gas
25,000 btu*
Enough energy to heat a 400 square foot room at 70°F for 4 hours - when it's 10°F outside.
Save Chemicals
7 oz*
Fewer chemicals equals less toxicity in the environment. And that's good for everyone.
*All amounts estimated based on average guestroom size and materials usage.