Experience Our $15 Million Dollar Transformation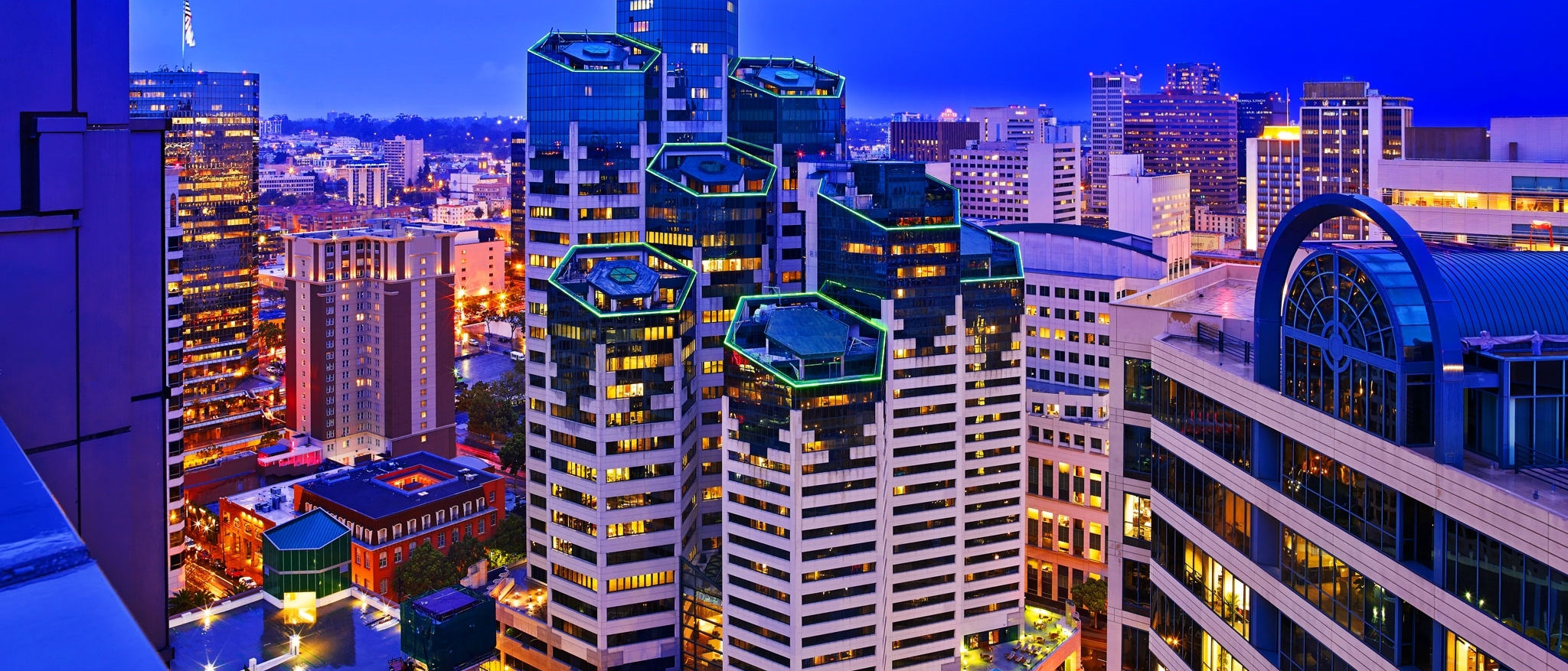 In February 2014, The Westin San Diego completed a $15 million dollar transformation, introducing the brand's new modern design. The hotel now has a distinctly upscale, contemporary feel, inspired by soothing elements of nature. With a complete revitalization of guestrooms, restaurant, lobby, public areas, meeting space, two new Legal War Rooms, Tangent and a new WestinWORKOUT® Fitness Studio, the newly refurbished urban retreat will transform every aspect of a stay into a revitalizing experience.

Vertical Garden
The Westin San Diego's invigorating updated lobby, will greet you with the Vertical Garden, a unique focal element designed not only to improve indoor air quality but create a natural environment. The brand's in-house design team, was inspired by research conducted by NASA scientists who discovered that growing plants indoors relieves stress while also helping to clean the air.
Lobby Design
From the moment you arrive at The Westin San Diego, you'll experience the newly designed lobby, re-concerting the current space with new furniture and space to create the ultimate social hub for you to enjoy during your stay. Tastefully decorated in soothing neutral tones with energizing textures such as natural wood and stone, the lobby of The Westin San Diego is both elegant and inviting. Several signature components include the new, vertical garden, which not only adds organic beauty but also improves indoor air quality. Guests can relax in thoughtfully designed casual spaces that feature comfortable seating and stylish accents. This new lobby experience will provide you with a serene environment during your arrival or departure. Check-in at new contemporary pods will be more personal than ever.
All-New Guestrooms
The Westin San Diego's newly transformed 436 guestrooms and suites feature the new Westin design with all new blue and white carpet, bright seating arrangements, new wall art and drapes, and 50" flat screen televisions. The world-renowned Westin Heavenly® Bed will provide a restful night's sleep with an oasis of lush sheets, down cushioning and a patented pillow-top mattress, which cradles and contours to the body for truly restorative sleep. Inspiring elements will be added to every guestroom bathroom including Westin's Heavenly Bath® experience featuring White Tea Aloe bath amenities, a revitalizing rain shower, new wall treatments, sink and counter, and a large mirror which is surrounded by a soft halo of light. You'll also enjoy the Westin brand's signature SuperFoodsRX® in-room menu, which includes nutrient-rich and delicious options to tempt every palate.
New Dining Options
Wake up to freshly brewed Starbucks® coffee at the newly redesigned Aroma Café. Satisfy the palette and re-energize for the day with breakfast or lunch at The Westin San Diego's newly redesigned restaurant, Coast. Coast features new carpeting, paint, and furnishings creating a relaxing new dining environment. Coast also features an outdoor patio where guests can relax and rejuvenate.
Creating a more open and interactive dining and drinking experience with community tables for small groups, The Westin San Diego's lobby bar pulls through elements of nature with dark wood finishes and stone colored seating arrangements with soft blue, gray, and red accents throughout. The overall design aesthetic stays true to the Westin experience. Setting a stage ideal for unwinding after a day of meetings or collaborating with colleagues, the new lobby bar at The Westin San Diego will become a go-to venue for guests and locals alike.
Refurbished Meeting Space
We've been productive so you can be too. The Westin San Diego transformation includes a new look and feel to 29,000 sq. ft of versatile meeting and banquet space. With enhanced catering and event planning services, and the latest in meetings technology, combined with its premiere downtown location that offers immediate accessibility to the Superior Court of California San Diego's Courthouse and the Gaslamp, San Diego Harbor, and Little Italy neighborhoods, Westin San Diego's renovated meeting and event spaces serve as ideal venues for meetings of all sizes, social gatherings and celebrations, and weddings.
Our 5,880 sq.ft. beautiful Emerald Ballroom is now more impressive with all-new accents, carpet and lighting. It is ideal for everything from corporate meetings to social events such as weddings, galas and anniversary parties.
And if you're looking for the same level of sophistication in a smaller setting, our newly remodeled Boardroom is ideal for small groups and VIPs. It features a beautiful boardroom table with executive chairs.
A host of customized details come together to create a welcoming and empowering meeting environment at The Westin San Diego:
State-of-the-art audio-visual equipment
Sophisticated teleconferencing capabilities
Spacious conference tables
Extensive lighting
All new design elements such as carpet, wall coverings and lighting
Legal War Rooms
Specializing in the needs of legal teams, The Westin San Diego is proud to present the first designed San Diego Legal War Rooms. Offering private and secure Legal War Rooms for trial preparation, depositions, ABA meetings, briefings or any type of legal meetings. Learn More>>
San Diego Legal War Rooms Feature:
Two private and secured war rooms, which include a paralegal office, reception area and deposition/conference room
Cutting edge technology specifically designed for the needs of long term trials
Dedicated secure high speed internet connections configured to your specifications
Installation and move-in ready
On-property service manager
Teleconference ready
Experts in understanding your needs
Flexible cancellation policy
View our Legal War Room Floorplan>>

Fitness Studio
Enjoy the comprehensive overhaul of our new 24-hour WestinWORKOUT® Fitness Studio. Elevate your energy level on the treadmill, tone up with strength machines or grab a mat to stretch and let go of stress. The airy surroundings of WestinWORKOUT® Fitness Studio feature the finest exercise equipment from world-class brands for all levels of performance. We provide everything you need for an exhilarating workout, so you can energize or de-stress day or night.
To help you pack light and stay fit, we now offer New Balance® shoes and clothing for you to use during your stay for only $5.00. Simply dial Service Express® or during check-in and request your shoe and clothing size and they will be conveniently delivered to your guest room. Shoes come with socks that are brand new and apparel is provided fresh and clean. Upon departure, simply leave the items in your room in their carryall.
Tangent
Streamline your work experience with smart technology and intuitive design that helps you connect with colleagues around the table or across the globe. Available by the hour, for small groups of up to four people, Tangent™ allows you to be your best from the moment you walk up and plug in.
Collaboration
Seamlessly share digital content with the latest media:scape technology.Brainstorm ideas on our floor-to-ceiling white boards.
Connection
Easily access computers, printers and advanced videoconferencing.
Stay connected with wired and wireless internet for no additional fee.
Enjoy a Samsung TV while you work and an Xbox® to play games or watch DVDs in your downtime.
Convenience
Stay productive with a full suite of office supplies and light refreshments.
Power up with outlets conveniently located throughout the space.
Diamond Rock has been recognized by Starwood Hotels & Resorts for their contributions to the hospitality management field, receiving the President's Award for their work on the purchase and comprehensive renovations of The Westin San Diego and The Westin Washington, D.C. Center.
The prestigious President's Award, given to only five out of over 380 Starwood owners this year, recognizes companies and their leadership for demonstrating exceptional or unique achievements and for sharing Starwood's vision for the future. Examples of notable contributions include being an excellent global citizen, exhibiting the confidence to succeed, going the extra step, playing as a team, and doing the right thing.